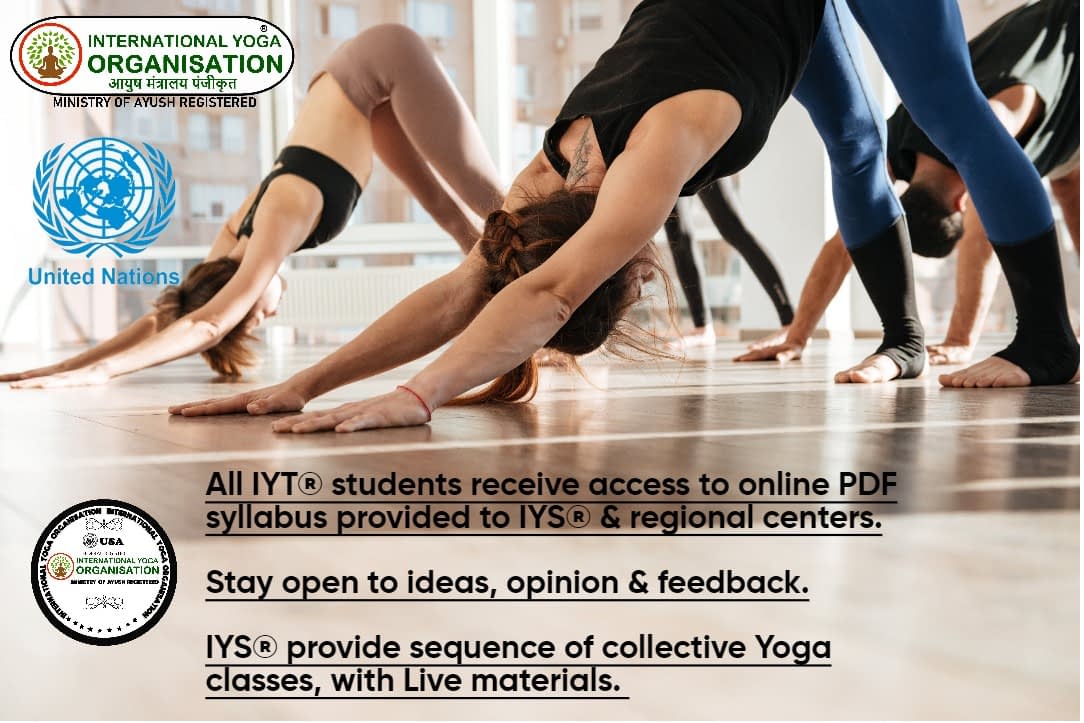 IYT® Diploma Programme in Yoga
Dear Student,
Greetings from IYO®.
I welcome you to the Diploma Programme in Yoga (DPY) Programme of IYO®. This is a unique Course initiated by IYO® in the field of Yoga. The Course will help prepare you to provide basic concept of Yoga and usefulness of day to day practice of yoga.
During your study, you will get support from IYO® through Internet as well as through the networks of our Regional and learner Support IYS®-International Yoga School. You have been allotted a IYS®- International Yoga School Regional Centre and you will be attached to an IYS®-International Yoga School Learner support centre under that IYS® Regional Centre. You will receive soft copies of the course material and the printed self-learning course material from an IYS® in accordance with schedule.
You are requested to be in constant touch with us through the email yoga@iyoworld.com. The programme comprises of a total of two theory courses viz. practical courses, Custom-made selfinstructional course material has been prepared for all the courses. You are provided with the self – instructional course material of all the courses at the time of your admission in IYS®.
As part of your study, you are required to undertake assignments. Assignments are a form of continuous assessment tools and must be submitted in time. At the end of the course you are required to undergo term end examination in each of the courses and clear each one independently.
In addition to the course material, you will have audios and videos available for better understanding of the subject, web conferencing/teleconferencing for clearing your doubts and for interaction with subject experts that is IYS®. The web conferencing and teleconferencing sessions are scheduled by IYS® as per availability of the facilities.
We appreciate that due to various personal reasons, you may not be able to complete some or all components of your programme in the designated six months of the duration of the course. IYO® gives you the flexibility of completing the programme in a total of 8 Months of registration of the programme without paying any extra fees.
Required information or the source and the various forms that may be required by some of you time any updates/changes in the forms or the fee to be submitted with the forms.
Please read and keep this Programme Guide very carefully and you will have minimum doubts about the frequently asked queries. During the course of your study, if you have any feedback, suggestions and comments to make, please write to us immediately, at yoga@iyoworld.com. You will be provided administrative support from the Regional IYS® Centre and academic support from the Learner Support Centre. I am always there for your support and can be approached for problems not sorted out at any level.
You are advised to be in touch with your IYS® support centres for advice / timely / day-to-day Wishing you all the best in pursuing DPY programme.
Bala ji Sir
Chairmain of IYO® International Yoga Organisation
E-mail: yoga@iyoworld.com
Mobile: +91 9964029333