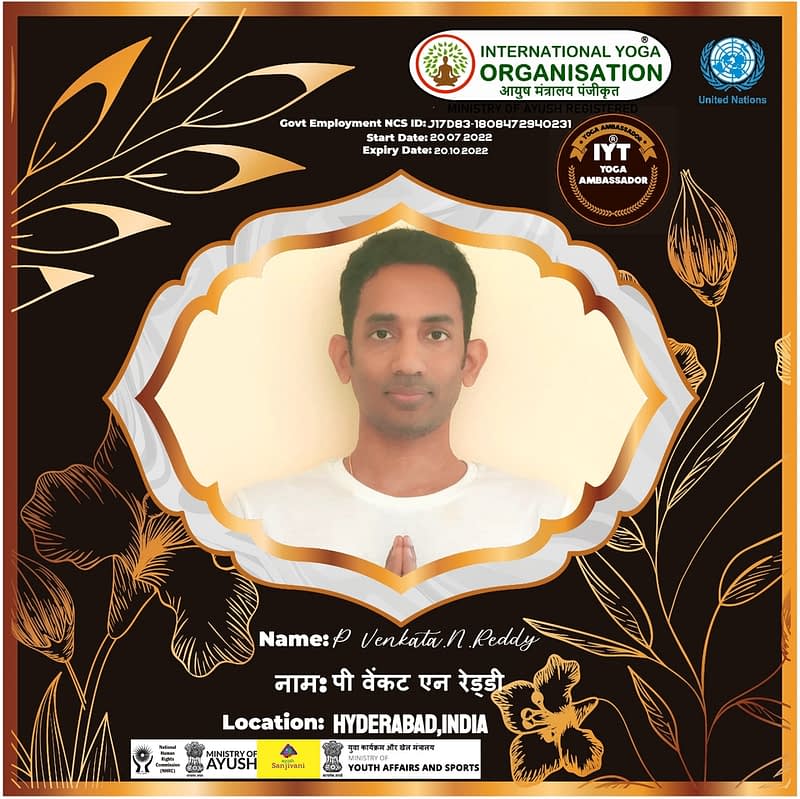 Name :
P. Venkata Nagendra Reddy
Email Id :
stanelysmith@gmail.com
Reg no :
About P. Venkata Reddy : 
Pranaam, I'm a 37 year old hailing from Hyderabad, Telengana.
My first experience with yoga was watching yoga programs in Doordardhan Television channel in childhood, following which my father explained me few of yoga asanas. Specially Kunjal Kriya & Vastra Dhauti.
It was beyond my understanding how some one can do that as a child i was aware of only eating food.
Years passed by after completing my graduation  i started my fitness journey in 2008 Novemeber by joining a gym for self improvement, as i was weak child due to Malnutrition in my childhood & improper eating habits in adolescence.
But i was always drawn towards Martial Arts as it made me feel that a Martial artist could perform Physically impossible feats.
In 2011 after thinking that i fairly am a strong teenager i decided to give a break to my Gym & taking up childhood Interest Martial Arts.
In 2011, i joined Yamaguchi Karate(Recognised by Olympics).
I was previliged to be trained directly by my Grand Master Rama Krishna & the Founder of Yamaguchi Karate.
He lead by example, he walked the talk.
He was a definition of Yogi for me. He had the "Tough Body & Tougher Mind"
I used to call him as "Warm Body & Cold Mind"
The control & discipline he had of eating & other lifestyle habits was simply exemplary.
Its under his training which laid a strong foundation &  strong belief in Yoga,
Because my Grand Master said his style of yoga is also called moving yoga.
He emphasised on breathing to develop the Mental & Physical strength.
His teachings made me a calmer person, controlling the rage of a Teenager.
My sense of Yoga lead me to explore my inner self.
Within in 3 months i gave my exam & got a double promotion to Orange Belt from white belt, by the blessings of my Guru.
Due to personal reasons he took a break from teaching & deputed a sub ordinate.
For my own personal reasons i could not continue the training.
Soon i went back to the GYM. In this journey of training in the gym i realised that Strength Training & Powerlifting gave me peace & in control.
So i continued Strength Training for Recreational Purpose, Along with following few yoga Asanas
But in 2016, i had L5-S1 disc herniation.
Which lead me to stop the training & do rehab.
After consulting 6 top Allopathy Doctors for the Injury finally i met a Ayurvedic Doctor Dr Chirumamila Murali Manohar.
He gave me ayurvedic medication & asked me to follow some specifi yoga asanas as Rehab.
In 3 months i was back in the Gym as a normal person.
Despite what the modern medicine told me i recovered to complete normal with out a single Painkiller tablet or Surgery.
This reaffirmed my belief on Yoga & Ayurveda.
From then i added yoga poses to my strength training saw incredible flexibility & Strength. I was reaping the benefits of yoga practice & Strength training.
In 2021 due to Hectic life & improper posture i had developed disc prolapses in my Cervical.
Having a strong belief in Yoga & Ayurveda i decided to approach the Ancient way for my treatment.
Dr Baapuji B of Centre for Integrative medicine treated me with Yoga Postures & eating habits(Eliminating some foods).
In 1 month i recovered completely & did a physical transformation to prove a point to common public that eating like a common man one can achieve a chiselled body.
Since 2016 i started helping people achieve their fitness goals as a Fitness Coach.
I used to incorporate yogic practices to all my clients along with the regular Strength Training.
But i wanted to do this with Authority.
So I Decided to start my Journey of Yoga Learning Under Dr Aditya Jahagirdar, Living 150 Wellness & Yoga.
Under the guidance of Dr Aditya sir i completed IYT 500 certification.
After completion of the IYT500 course and the wonderful Guidance of Dr Aditya guruji i got a lot of clarity and could connect the missing dots of the mysterious Physiology of the Human Body.
I'm in the continuous process of learning.
The formal education of Yoga under my Guru Dr. Aditya was eye opening & i was mesmerized by the concepts of Pranic Energy, Chakras, Kosha, Nadis.
This further led me to the explore the formal education of Pranic Healing.
I took up the step by step process of becoming a Pranic Healer with ALL INDIA YOGA VIDYA PRANIC HEALING FOUNDATIONS TRUST.
I found that people are either inclined towards Yoga or Strength Training.
With the knowledge of muscle, bone anatomy, machine movement engineering & Biomechanics acquired in RTS(Resistance Training Specialist), USA AND Yoga.
I'm offering a unique Amalgamated teaching, training & helping aids to the Clients using the best of the both the Modern & Ancient Worlds.
I Also enrolled myself for Advanced Course in Ayurveda Nutrition and Dietetics with Living 150 Wellness & Yoga.
I'm planning to Move to Europe soon & practice as a health professional there.
As a Certified Personal Fitness Coach, Sports Nutritionist, Pursuing Health & Wellness Coach i think i have a unique combination of Modern & traditional knowledge to help people & Spread the wonderful message of Yoga to the World.
Through this Application i request the esteemed Jury to Grant me the chance to be a IYT Yoga Ambassador. So that i can spread the wonderful teachings of Yoga to the Wrold as a IYO IYT YOGA Ambassador.
The following are my certifications.
International Yoga Teacher(IYT 500) USA, UN & Ayush Ministry
Certified Nutritionist(Accredited to Edinburgh University).
Personal Fitness Coach(Fitpathshala)
Resistance Training Specialist RTS(USA)
Pursuing Advanced Ayurvedic Nutrition & Dietetics
Pursuing Health & Wellness Coaching, NBHWC,USA
Orange Belt, Yamaguchi Karate
Channel Partner with Decathlon India for providing Online & Offline Seminars & Workshops.
Been Training Under Various Disciplines like Body Building, Powerlifting, Strength Training, Martial Arts for more than 13 Years.
Helping people with their Fitness Goals of Fat Loss, Muscle Gain, Endurance & Sports Specific fitness(Cycling, Marathon Running, Triathlon, Table Tennis, Tennis, Golf) more than 6 years.
Also specialise in Injury Prevention & management.
I had worked with some MNC's for nearly 2 Decades now in various divisions related to Sales, Service, Support, Presentation Skills, Training, Quality Assessment & Quality Control, Operations Management, Marketing, Digital Marketing, Product & Concept Selling, Client Relationship Management, Business Development, Crisis Management, Research Analysis & Recruitment.
Address :
S/o: – P Vijaya Rami Reddy, F No: 439, IV Block, Jana Priya Abodes, Gandhi Nagar, Hyderabad – 80