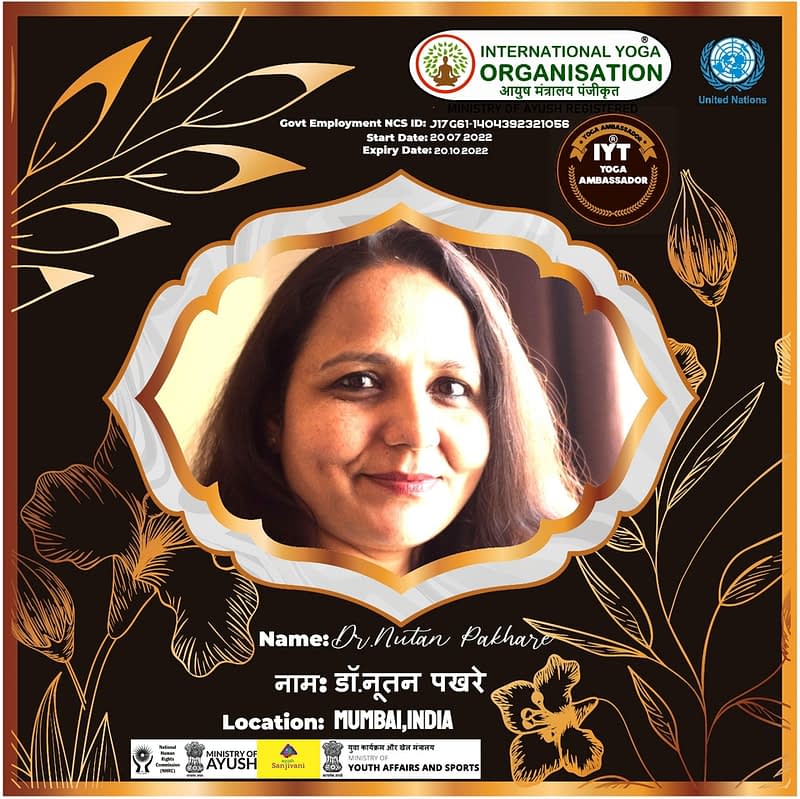 Name :
Dr.Nutan Walchand Pakhare
Email Id :
aygacademy@gmail.com
Reg no :
1195
About Nutan Pakhare : 
AYG ACADEMY was  founded by Dr.Nutan in July 2020 and affiliated with International Yoga Organisation and  Indian Yoga Association.\r\nOur aim is to focus on teaching ,training and healing people. Immunity has become so essential for everyone. There is decline in fertility rates & rise in stressful life. World is on the way to creating an artificial womb for preventing premature life. Every 5 seconds 1 woman or baby expires due to pregnancy or labor complications.Ayurveda and Yoga are two pillars of ancient wisdom for health and wellbeing. They have a vigilant approach to work on this problem and help human life on this planet earth. Not only has this Ayurveda principle helped to keep our physical and mental health best. Yoga takes us towards spiritual health. Both sciences guide us how to nurture life through healthy food and disciplines. It also teaches to enhance life in the womb naturally and provide qualitative care to mother and baby. Garbhasanskar is an ancient wisdom which guides for health and wellbeing right from the training to would-be parents and new life in the womb from conception to childbirth. Therefore we dream to take these ancient treasures across the country with our various services by creating self -paced and online educational courses and training based on Ayurveda, Yoga and Garbha Sanskar.We have trained so far 600 plus teachers and heal countless patient through unique combination of ancient and modern science.
Address :
B1604 Sky view CHS,Nehru Nagar Kurla East Mumbai 24