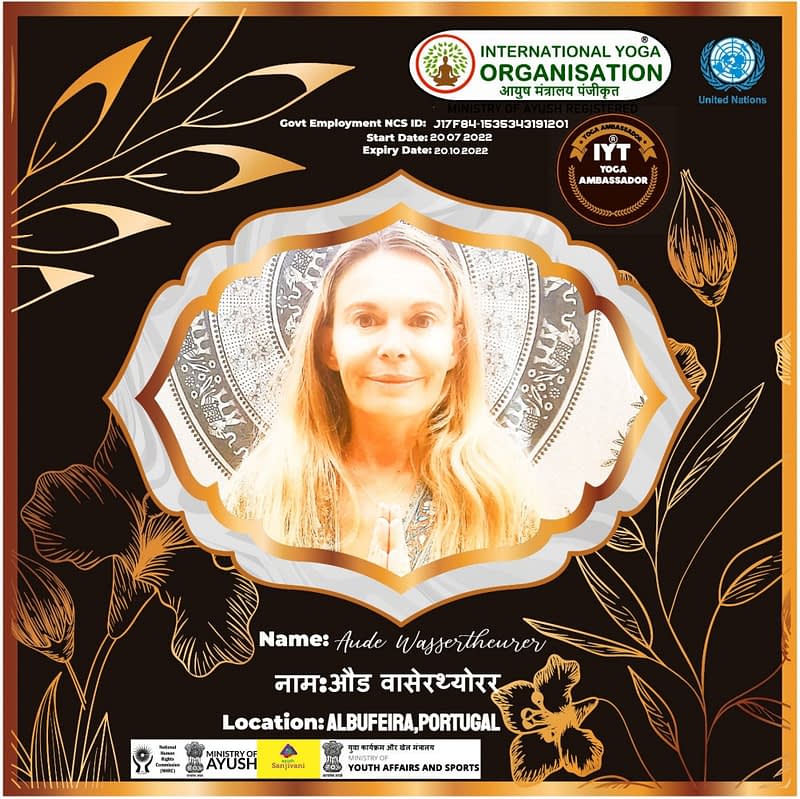 Name :
Aude Wassertheurer
Contact
Email : wimpel@wanadoo.fr
Tel : +351 925 675 425
Postal adress : 
Alpovar – Apt7050 – Ec Vale Paraiso 8200-996 Albufeira, Portugal
Physical adress : 
Quinta Mandala, Quinta das amendoeiras, Alpouvar Cx 232-A – Ferreiras, 8200-552 Albufeira, Portugal
FB : Algarve YogaTribe& school – Quinta Mandala Albufeira – Stretching for Life
Instagram : Yoga Sea Sun
Birth date : 07 August 1969
Ps : my English is not perfect,but as I write for my heart,I know that your heart will understand my words – Namaste
Yoga experience
Yoga Personal experience
As far as i remember i was around 7 years old when I started my daily practice of yoga with my Mum … But i started for sure before.. In fact I could say that, as per my deep feeling, I was born in Yoga and for Yoga … According to my Family, i was always asking for questions about relation between planets, nature, sciences and human beings, about the truth, knowledge, feelings and peace … Also, as kid, my being wanted to experience the world, spontaneously… I still can ear my grand- mother saying "You're a dreamer…", "do not hold your breath that long !", "you are going to break yourself in pieces in this position" -I did not know it was an asana at this time !
Then my Mun offered me my very first real Yoga Class for my 10 years Birthday (I now, 54..). It was a revelation for me ! Just as if I could reconnect with the true purpose of my life and deeply connect with the world all around. Whatever where the situations, life conditions, Yoga was my guideline, my sacred place deep inside of me.
Years runned and i've studied and worked in completely different fields (like international trading…). It was not my world and i saw so many people suffering, physically and mentally…(I always kept my Yoga practice and during meditation, it was more and more obvious that I was in a wrong path…). So I came back to studies in a complete different way (Acupressure, Ayurveda,TCM…). During consultations I always advised people to practice Yoga but as I moved to Austria, in a small town in mountains… There was no YogaTeacher there ! So i invited my patients to practice with me. And they were more and more…I wanted to help from the bottom of my heart but i was not really educated for teaching, nor to spread properly the path of Yoga. So I decided to go to the source of Yoga, in India, and learn deeply, in situ. So was on my way to become a Yoga teacher, to, finally, embody my mission and hopefully help this world to get better.
Since this time, I've been teaching Yoga (more than 10 years now), keep working in Ayurveda, Acupressure, TMC.. Practicing and learning every day…On the Yoga path, always !
Why IYO ?
As you may have read before, my purpose in life is to help people and our world to get better, to find peace, harmony and the truth – Satya – within and between themselves.
IYO is the very one to match my deep values and this is why I would be so grateful to join your organisation as a Yoga teacher and Yoga School.
IYO promotes Health, Human rights and self development and embodies my goals in life.
Thank you so much to be there.
Teaching hours
2012- 2016(5 years) : Austria
Yoga classes at Life Art Bliss Base, Hermagor, Austria : 11 classes per week – Around 4300 hours
Yoga Classes in KurHotel, Weissbriach + Falkensteiner Hotel Sonnenalpe, Nassfeld, Austria : 300 hours
Workshops : 150 hours
Private classes : 90 hours
Around 4840 hours in 5 years /Austria
2016-2019 : Portugal
Yoga class in person : 7 classes per week, 4 years : around 2184 hours
Workshop : 120 hours
Private classes : 72 hours
Around 2376 hours in 4 years / Portugal
2020 : Portugal, A part of the year in Lockdown
Before lockdown :
Yoga class in person : 7 classes per week : around 126 hours
Workshop : 9 hours
Private classes : 24 hours
During lockdown :
Online classes : 64 hours
Online workshop : 4 hours
Private class : 32 hours
After lockdown
Yoga classes in person : 6 classes / week : 180 hours
Workshop : 9 hours
Private classes : 10 hours
Online classes : 48 hours
Around 516 hours in 2020
2021 : Portugal
Yoga classes in Person : 468hours
Yoga class in hotel : 6 hours
Workshop : 30 hours
Private classes : 18 hours
Online classes : 156 hours
Around 678 hours in 2021, Portugal
2022 : Portugal (Jan – Jun)
Yoga classes in Person : 273 hours
Yoga class in hotel : 4 hours
Workshop : 15 hours
Private classes : 36hours
Online classes : 78 hours
Around 406 hours in 2022, Portugal
Total : 8816 teaching hours –
Schedules are available in Facebook under Life Art Bliss Base, Quinta Mandala Albufeira, Algarve Yoga Tribe& School
Yoga Education
Main
2011 – 200 Hours teacher training Yoga- Sivananda program – Kerala center, India – But i stopped the training after 50 hours of training.
2011 – 200hours teacher training Ashtanga Yoga – YogaInstitute of Mumbai, India
2012 – 25 hours, Silver age Yoga teacher certification – Silver Age Yoga Community Outreach (SAYCO), USA
2013 – 150 hours Yoga therapy training according to Ravi M. Dixit, Kaivalyadhama, Mumbai, India – For this training I have no more file except a pdf from the first documentation – Rescued from my previous computer. Maybe You can check with SANSTHAN, 109, CHOPASNI ROAD,KAMLA NEHRU NAGAR,JODHPUR-342009 (RAJ.) INDIAM-9829548008, Tel- 0291-3248666
2021 – 150 hours, Kundalini Yoga, center of excellence- Non contact
2021 – 150 hours, Tantra Yoga, center of excellence- Non contact
2021 – 30 Hours, Arm balances and inversions, Yogi Flight School – Nathania Stambouli
2021 – 200 hours Teacher training Vinyasa Yoga – Soul Play Yoga, Nathania Stambouli and Abigail Aller
Other Yoga related Certifications
2014 – 28 hours – Acupressure Mastery with Acu-yoga modules with Michael Reed Gach – Home study
2020 – 200 hours- Ayurvedic training with "Me former"- Non contact
2021- 150 hours- Face Yoga – Center of excellence – Non contact
2021 – 30 hours Anatomy with Karen Fabian
2022 – EMDR Therapy with Prof. Krishna N. Sharma, Ph.D,
– Fitness Trainer
– Stretching Coach
Enrolled in programs (on process):
Yin- Yoga : 50 hours
Prenatal Yoga: 50 Hours
Women Holistic Health : 50 Hours
Others
Author of
* " Yogic Cooking" -"Yoga &Ernährung – 2013"
*" Yoga in Family"- " Familien Yoga" – 2014
* "In harmonywithournature"-"Einklang mit unsere Natur"– 2013
Yogini Aude Wassertheurer ji is an official IYT® Yoga Ambassdaor for Portugal country. Under the IYO® International Yoga Organisation subject of Terms and Conditions from 20.07.2022 till 20.10.2022.