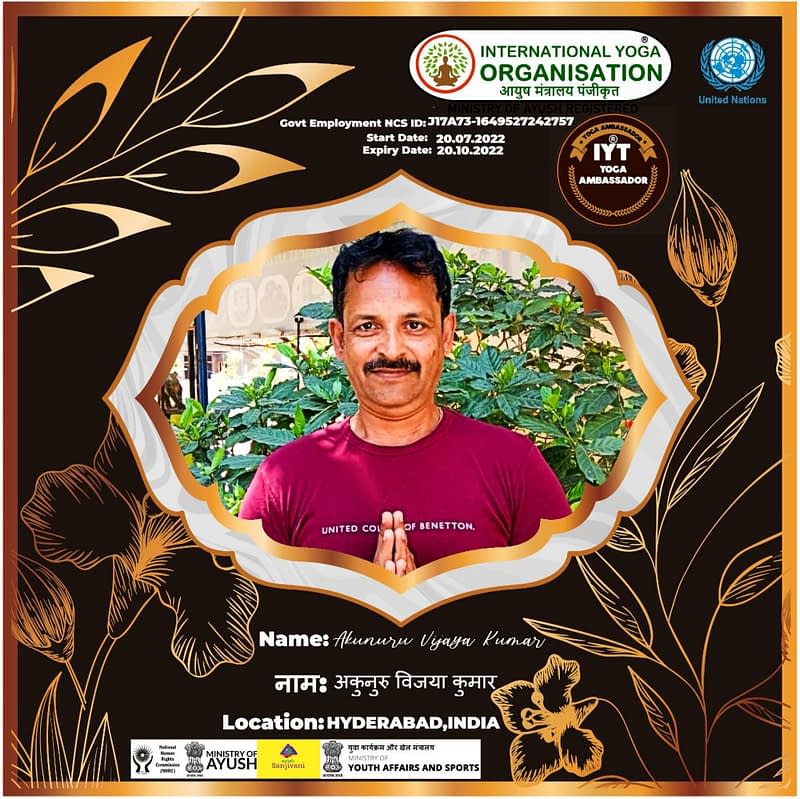 Name :
Akunuru Vijaya Kumar
Master Akunuru Vijaya Kumar ji is an official IYT® Yoga Ambassdaor for Telengana and Andhra Pradesh,India. Under the IYO® International Yoga Organisation subject of Terms and Conditions from 20.07.2022 till 20.10.2022.
Email Id :
akunuru.v2011@gmail.com
Reg no :
EIYT1112 : govt Employment NCS ID J17A73-1649527242757
About Akunuru Vijaya Kumar : 
I, A. Vijaya Kumar started my yoga school 20 years ago. I specialise in teaching Ashtanga yoga, face yoga, prenatal and postnatal yoga, along with mudras and chakras. I have taught to around thousand students varying in all age groups. I walk on the path to bring out age old yoga practices taught by our ancients.
Address :
H No-8-30\/s\/45, plot no 61, 62, Rd No-04,Hemanagar, Boduppal, KV Rangareddy District, Telangana,500092